The only unit type can be put into different modes with their own strengths and weaknesses. Activate sturdy shields or powerful disruptive weapons while units are already deployed.

Randomly spawned power-ups can be collected to unleash devastating effects and turn the tide of battle.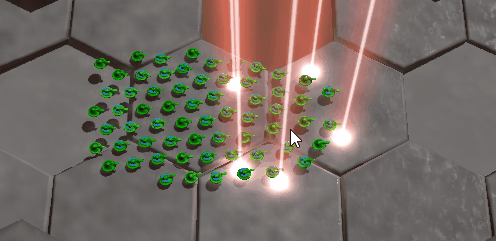 Control huge swarms with hundreds of units to conquer the enemy spawn circles and overwhelm your opponents.
Conquer your friends spawn-points in team or solo-matches with up to four players over LAN or the internet.
Destroy your opponents in Free For All. Dominate the map in Capture and Hold. Hold of the endless Horde.
Defend against the endless onslaught in Horde mode.

Design your own maps with the map editor
Features (Version 0.39.0)
12 maps for multiplayer and bot games
Horde (survival) mode with procedurally generated maps
Cross-platform multiplayer with up to 8 players
Local multiplayer with 2 players (Requires a Gamepad)
12 training maps
Switch units between damage and utility mode on-the-fly
6 power-up types
Flexible input modes: Mouse & Keyboard, Gamepad, Touch and Steam-Controller
Endless horde mode with online high-score list and Coop Support
Official map editor
Handmade: Built from the ground-up in C++ using only basic libraries.